SaaS (Software as a Service) is not just an acronym but stands for Software solutions available on the Cloud, enabling you to access it over the internet and start using it almost instantaneously.  The entire framework and logic are built into the solution, and the User has to subscribe to it and pay for actual usage merely. Hosting could lie with the service provider who manages the hardware and software and always ensures its availability. 
Web Designing is a complicated domain. Although many web designers are available today, getting skilled ones often pose a challenge. Moreover, building from scratch takes time and involves multiple internal approvals. A website aims to inform users of your offerings and promote your products, services, and corporate image. Websites should enable a 2-way interaction where users would be able to satisfy their queries. E-commerce sites are additionally used for transacting business.
Canva: Your Ultimate One-Stop Solution for Creative Design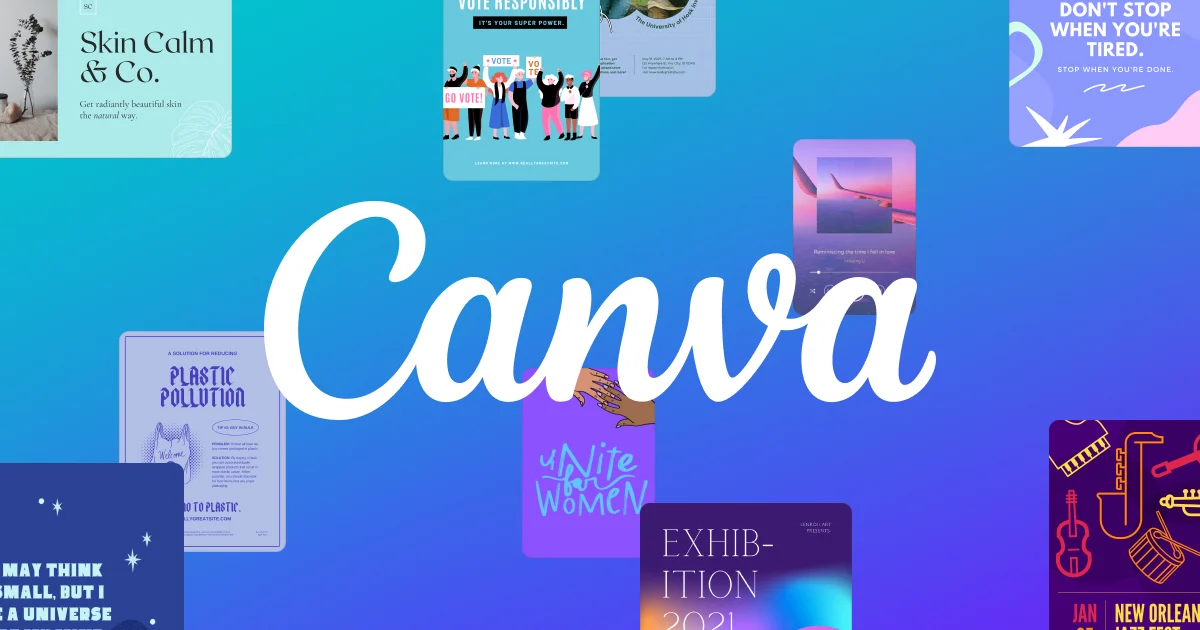 Canva is a popular SaaS Software because of its ease of use and capability to set up your site within an hour. It is generally used for one-page websites or, at best, a few pages.
Canva's free website creator enables you to not just design your website with a commendable aesthetic look in under an hour and publish it. A host of designs and templates are available in its libraries that could be used for design and simultaneously configured. Color palettes can tune the appearance per your brand's original design. Many fonts, icons, photos, animations, and videos allow you to load your design or pictorial assets. The site can be published in Canvas free domain, or a registered domain can be purchased. All of this can be achieved collaboratively, i.e., with several designers working together.
Canva can also be used for designing marketing collaterals, Its UX/UI has been rated reasonably versatile, although not extensive. UX/UI stands for User Experience and User Interface, respectively. Experiences of Websites developed through Canva suggest that they are intuitive and aesthetic, and the drop-down lists and radio buttons provide a fabulous User experience. The best part about Canva is its affordability. The free domains allow the designer to host up to five free websites within its free domain – my.canva.site. If you must host more sites, you must subscribe, and the rates are competitive.
Two additional features worth mentioning are its capability to hide your Website from search engines if you so desire and enable secure access through password protection. Updates to content can be performed as and when the need arises and is quite user-friendly in this respect. You can track the usage patterns – the number of visitors who have accessed your site, and derive analytics on the characteristics of the users who have visited your site – their location, the period during which they mostly visited your site, the devices used, the originating websites that directed them to your site, and so on.
The Importance of a Website
A website can make or mar your business. It is the experience that counts. Statistics suggest that 52 % of users do not return to a site because of its poor aesthetics, and 48 % are disgusted if it is not mobile responsive, i.e., it does not seamlessly fit into a mobile device. A user needs the following features: excellent navigability, aesthetics, engaging content including useful information, speed of response, and so on. This is where the challenge lies, and many sites fail to deliver this experience to the user, thereby leading to an awkward situation.
Content Management is one of the most important aspects of a Website, and content should be updated regularly. The content creator must be able to update it dynamically and easily.
Here is where SaaS steps in. There are readymade frameworks that enable you to design websites with the basic design. Coding is limited or not required at all. All you have to do is customize as per your tastes and preferences, and the codes will be generated automatically at the back end.
The following features were available in Canva
You can create many Projects for use simultaneously.
After creating your Project and before starting to use the templates, the user should familiarise himself with the various templates available. They are categorized by color and not by business type, which is not to the liking of some.
There are a host of images and designs to select from. Not all images are free; some have to be purchased. These can be dragged and dropped at the click of a button.
There is a separate "Brand Hub" available to design a logo for your brand.
Alternatively, through the "Upload" option, you could upload documents, designs, logos, icons, or pictures already available with you, situated on your Hard Disk or Google Drive.
The facilities to add text or draw freely are available.
There are Apps available to animate your site or convert text into images through AI. User says: I was able to obtain a decent picture of a man playing the piano by typing "A man playing the piano".
Pricing
There are three Canva plans- a free option with minimum facilities, a paid option "Pro" priced at Rs. 3999 per annum per person. This provides unlimited access to all the designs and roughly 400000 templates unavailable to free users. Besides, an annual subscription of Rs. 6590/ for five persons is recommended if you work in an enterprise with multiple collaborating designers. With this, it is not just multiple individuals that can collaborate, but you could design workflows to enable this.
The free option is initially recommended for beginners, solopreneurs, and small organizations.
A few favorite websites were developed through Canva
OceanZen – a women's clothing store
Thrivette – a business coaching company
Serena Hannah Athletics – a women's clothing line
DULO – a men's clothing line started by Julian Samarjiev in 2017
Sawyer – a children's clothing business
Dick At Your Door – a dessert boxes store
Joker Greeting – a Greeting Cards Business
Starter Story – a niche blog
The point to note is that all these companies had very few employees; most were startups and were started by a few friends.
A Critical Appraisal
Canva websites are not strictly responsive; that is, sites developed for mobile may not be readable on a desktop and vice-versa.
SEO-friendliness is not its forte. Search Engine Ranking needs you to add numerous titles, meta descriptions, and keywords to your pages so that prospects using search engines can be directed to your site.
While statistics are natively available, it does not connect to Google Analytics.
It is not meant for e-commerce because building a shopping cart is impossible. The suggested method to enable this is to connect the site built on Canva to platforms built on Shopify or Squarespace.
There is no in-built blogging platform. You can create pages with texts, but a blogger cannot dynamically use the page so built. The best option here is to connect to a blogging site by exchanging text.
Canva is not friendly for visually challenged individuals.
Its categorization of designs based on colors is counter-intuitive, and we would have expected it to be categorized, instead, on the nature of the business.
It is sometimes unclear whether a particular image is free or paid.
Conclusion
If the aim is to create a flashy website to display your creativity and aesthetics and quickly get a not-so-elaborate website up, there is no one to beat Canva. Alternatively, you could use it for designing brochures, social media sites, stunning marketing collaterals, or posters for a charity you plan to launch soon. Even blogs can be interspersed with creative designs. The purpose is to let the world know about you and create a first impression. Here too, you need to exhibit professionalism. Prospective customers would not be interested in dealing in the future with a company whose website betrays a lack of professionalism. In today's world, the first impression unfortunately persists. It depends on where on the Marketing funnel you lie. You wish to announce your arrival in the marketplace with a bang, and Canva is a helpful tool. As you progress up the funnel, you need a lot more. 
Read More
Social Media Statistics in 2022 That Will Blow Your Mind