This is why Customer Communication Management (CCM) has been steadily increasing in popularity. For established businesses, customer communication often becomes secondary. Newer companies have the advantage of offering better customer interactions and thus, stealing your customers away. This is why CCM plays a vital role in ensuring that businesses are not communicating with their customers just for business requirements or legal needs.
In this post, find out in details about CCM, its three key benefits, and the top five CCM software to use in 2023.
What is Customer Communication Management (CCM)?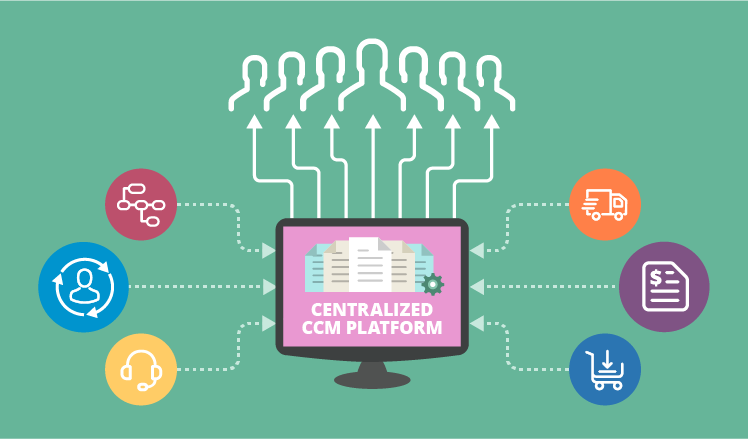 Having engaged customers is one of the keys to your business's growth and success. When you have a systematic and standardized communication process in place, it makes it easier and seamless for organizations to communicate with their customers effectively. Businesses can benefit from a positive brand experience by having a structured communication approach. Also, it ensures that your customers always have a positive experience, irrespective of who they communicate with – be it sales, service, marketing rep, or customer support. Customer Communication Management can be defined as an outbound strategy used by businesses to communicate with their customers. This strategy is not applicable just to the customer service teams. Instead, it applies to all the employees across the organization who are in some form of customer-facing role. With CCM, businesses can centralize all their customer communication taking place through various analog and digital channels. From emails to PDF documents to printed documents to SMS texts to multimedia messages – everything falls under CCM.
Managing customer communication in a centralized manner allows various departments to collaborate effectively and adopt the flywheel marketing approach that helps attract, engage, and delight customers.
There are two forms of outbound communication: live interactions and digital interactions. CCM focuses on both these forms and uses specialized software to record and categorize these interactions. Live interactions, such as phone calls or in-person conversations, are typically recorded on a support ticket or in the customer's profile within the internal database. On the other hand, digital interactions, which are usually conducted through some form of the written medium are relevant to a wider scope of customers. For example, customers who have subscribed with you may receive an invoice. Although this type of content does not require much interaction, it still impacts the customer's experience. With digital marketing becoming the preferred choice, it has become all the more important for businesses to monitor and analyze their digital customer interactions. This is possible with the help of customer communication management software.
CCM software offers various tools and features that enable businesses to centralize their customer communication and aid the teams in successfully managing various forms of customer communication.
Three Key Benefits of CCM
Implementing customer communication management for businesses of all sizes and types has several benefits. Here are the top three benefits.
Improved Personalized Interactions – Personalization is the key to making your customers feel important. Personalized interactions help them feel more connected to your brand and increase their engagement with you. Having an effective CCM in place will help your agents identify all the interactions the business has had with the customer. Having easy access to this historical data enables them to better interact and resolve the customer's queries, thus, boosting their communication experience.
Improved Engagement Tracking – Customer engagement plays a key role in ensuring the sales success journey. For this, businesses need to track and gather customer data from various platforms and use that information to improve their customer engagement. CCM enables businesses to do this in an efficient manner and helps in creating a detailed customer profile. Customer engagement is a great way to boost the brand experience, help them develop brand loyalty, and also use their feedback for future decision-making.
Improved Customer Experience – When you focus on improving customer experience, you will automatically be able to retain your existing customers and pull in new customers as well. Irrespective of what communication channel you use, be it phone, email, direct messaging, etc., the more seamless your communication is, the better the chances of boosting your customer experience. With CCM, you can pull out vital information, such as how much your customers interact with the brand, what they are saying about their brand, how often they come back, and more.
Top 5 Customer Communication Management Software to Use in 2023
As you can see, customer communication management has a wide scope and businesses need to ensure that they are focusing on all its various aspects to utilize it as best as possible. This is why, today, there is an increasing demand for CCM software that can make your customer communication management job easier. Here are the top five CCM software recommendations to use in 2022.
Front
Front is a customer communication hub that enables teams within an organization to collaborate better and access data that helps them in providing better, quicker, and more accurate responses. It offers a user-friendly interface with robust automation capabilities in the background that help in getting rid of manual workflows. It offers features like multi-channel messaging, analytics, live chat, advanced workflows, CRM integration, and more.
EZ Texting
Businesses that wish to explore effective communication with their customers via SMS messages should check out EZ Texting. This text management software is an effective tool for businesses to reach and engage their mobile audiences. It is a SaaS solution that offers key features like group texting, 2-way texting, QR codes, dedicated short codes, text scheduling, etc.
Chekkit
If you are in search of an all-in-one customer experience software, then your search ends at Chekkit. This software uses various mediums, such as SMS, Facebook Messenger, website leads, webchats, etc., to make it easier for businesses to collect online reviews and boost their customer interactions. It offers various features like video chat, messenger, social media metrics, sentiment analysis, a customer review platform, and more.
Quadient Inspire
Quadient Inspire is an ideal software for large businesses to deliver personalized messages consistently to their customers through various digital channels. It enables businesses to create an effective and unified customer communication solution that covers the entire customer journey. Its list of features includes multi-channel communication, compliance management, customer engagement, communication templates, engagement tracking, etc.
TrueDialog
TrueDialog is a cloud-based SMS texting platform that can be used by businesses to send bulk messages as well as one-to-one messages to their customers. It is a great software that enables businesses to manage instant and personalized communication with their customers. It offers a wide range of features like One-to-Millions mass texting, call center texting, Voice + click-to-call, Drill-down reporting, pre-built opt-in and opt-out subscription management, and more.
Conclusion
Communication has truly evolved a lot, and for businesses to continue their growth and success, staying on top of their customer communication is extremely important. Using the right CCM software can help you nail your customer interactions in an organized and structured manner.
Check out more such effective and useful communication software on SaaSworthy!
Also read
Top 15 Free School Scheduling Software in 2022