In any business in which large sums of money are moved, a fraud to happen is not uncommon. The world of online advertising has become quite an attractive one to fraudsters, and why not! The impersonal nature of transactions, a complex and opaque supply chain, and reliance on easily-muddled metrics mean that ad fraud remains one of the biggest challenges for advertisers, publishers, and ad-tech companies. One of the biggest challenges around digital ad fraud is that no one knows the exact extent of the problem, with estimates ranging from high to absurd sums of cash. You can't ignore this or it will eat out a significant chunk of your ad budget. Have a look at some eye-opening Ad Fraud Statistics in this blog!
Key Ad Fraud Statistics
The total cost of ad fraud is debatable. According to TrafficGuard/Juniper, it is at $34 billion, estimating that it will increase to $87 billion by 2022. Most of this loss will occur in the APAC region, with the current $19 billion slated to rise to $56 billion.
According to the WFA, ad fraud may become the largest market for organized crime by 2025, worth around $50 billion. 
According to White Ops Inc and the Association of National Advertisers, only $6.5 billion was lost to ad fraud in 2017, down from $7.2 billion in 2016.
According to Interceptd, 21.3% of iOS applications and 26.9% of Android app installs are fraudulent. 
Around 28% of website traffic comes from bots, according to Adobe. Thus, the overall cost of ad fraud is around $66 billion dollars according to a certain commentator. 
According to Interceptd statistics, in Q4 of 2018, device farms accounted for around 25% of ad fraud, incent abuse for 20%, bots/emulators for around 18%, SDK spoofing for 13%, click spamming for 9%, click injection for 8% and other sources for 7%.
According to MarTech Advisor, for the same quarter, the levels stand at 57% click injection, 24% click spam, 11% SDK proofing, and 8% fake users/bots; levels vary yearly in both estimations. 
According to TrafficGuard/Juniper stats, around $25.8 billion was lost to the three most prevalent forms of ad frauds, app install farms or SDK spoofing accounts for around 42%, click injection for 30% and click spam for 27%. 
SDK spoofing is capable of siphoning off 80% of all ad budgets, according to MarTech advisor Michael Paxman. 
In the year 2017, digital advertisers lost approximately $39 million per day, according to TrafficGuard/Juniper Research. $17 million dollars came from APAC advertisers. 
According to TrafficGuard/Juniper estimates, advertisers who run campaigns without safeguarding them stand to lose around 26% of their investment to fraud. 
According to eMarketer, 80% of display ads are purchased programmatically.
According to a programmatic ad study from Guardian US, 72% of video spending went to unauthorized exchanges and SSPs.
According to TrafficGuard/Juniper, advertisers displaying one million ads over a 24-hour window will pay for over 100,000 ads before detection.
TrafficGuard/Juniper says that one in 13 app installs is fraudulent globally.
According to a Forrester study, around 69% of brands that spend $1 million per month report that 20% of their budgets were lost to digital ad fraud. 70% of these firms reported that they were actually planning to boost their ad budget.
3eve, a botnet operation, involved 1.7 million PCs infected by malware, around 10,000 fake websites generating 3-12 billion daily bid requests, and 60,000 seller IDs with digital firms. In all, around $29 million was burgled before it was dismantled in November 2018.
In October 2018, Buzzfeed ran a story saying that $10 million had been pilfered from Google's ad network.
MegaCast-Chrome Player enabled around $75 million dollars of ad fraud using bundle ID spoofing.
Machine learning may bring down ad fraud levels by $3.5 billion in 2022, up from $2 billion dollars today, according to TrafficGuard/Juniper.
According to Alexa, 42% of the world's top 1000 websites have signed up to ads.txt.
In-app advertising has 25% lower fraud attempts.
52% of brands are bothered about fraud when using in-app ads, as compared to 36% of agencies, according to eMarketer.
57% of brands are bothered about fraud for video ads, pitted against 42% of agencies, says eMarketer.
eMarketer in a different study reported that 69% of agency professionals and 53% of brand professionals were worried about fraud.
Responding to the increasing cost of ad fraud in Jan 2018, FMCG giant Proctor & Gamble announced it was planning to save $750 million by slicing its ad budget, and reducing by half the number of agencies from 2500 to 1250, followed by a further $400 million dollar cut.
JPMorgan Chase 2017 reduced the number of sites it advertised on, from 400,000 to 10,000.
Examples of Ad Fraud
The 3ve Ad Fraud
There was a massive botnet operation called 3ve, that was dismantled in November 2018. The stats concerned with this operation would be scary for digital advertisers. The entire operation consisted of 3 phases. More than a million PCs were infected by malware, 10,000 fake sites were generating a staggering 3-12 billion bid requests daily, under the guise of being legitimate publishers, and over 60,000 seller IDs with digital firms to enable fraudsters to receive ad placements and be paid for it.
According to a whitepaper released by Google, the network was difficult to track as it used techniques like counter ad fraud manipulation and evasion. It could also change its codebase post usage spikes. 3ve cost businesses an alarming $29 million in ad spending. Methbot (run by some sketchy characters), and the Russian defendants were found guilty of defrauding businesses out of $36 million in all. No human ever saw any of the ads involved in this fraud ring. This whitepaper shows that the biggest names are the most vulnerable to online ad fraud.
Other Popular Ad Frauds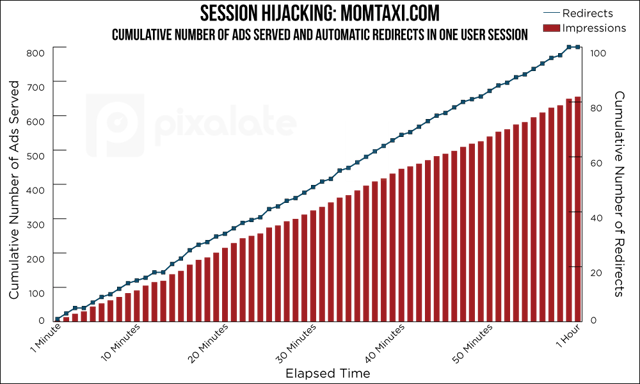 In October 2018, Buzzfeed News came out with the existence of a huge ad fraud scheme that managed to defraud around $10 million from Google's ad networks. Using more than 125 Android apps and websites which followed and imitated human behavior to avoid detection. A lot of digital ad fraud may be carried out through a single channel.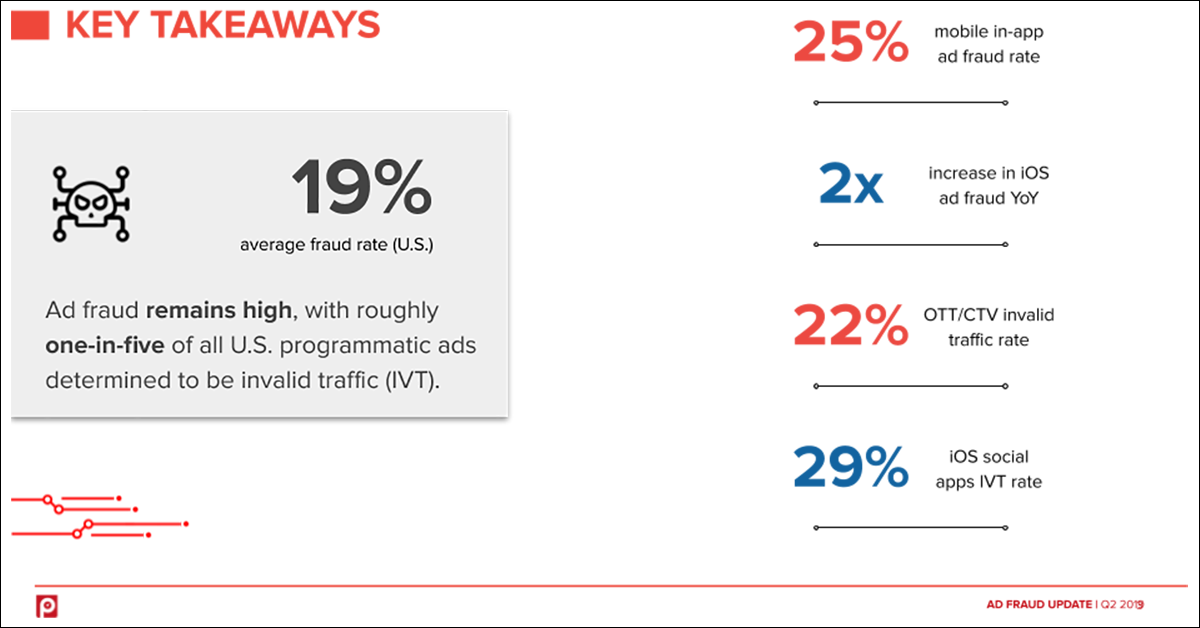 For instance, according to a Pixelate report dated June 2018, an app called MegaCast for which the Chrome Player served as a front for an operation in which around $75 million of ad fraud was detected. This used mobile ad fraud, and app laundering (that relies on bundle ID spoofing). Pixelate found out that if a device was on for a whole day, it would serve 1400 impressions or a 6:4 ratio of the display to video.
The Cost of Ad Fraud
Estimates of the actual cost of ad fraud vary hugely, as deciphering the volume of invalid traffic/downloads is quite complex. According to eMarketer, current estimates of the total cost vary from $6.5 billion to a staggering $19 billion. This could have been worse because the highest end of the scale seems conservative.
The World Federation of Advertisers 2016 predicted that within a decade, ad fraud and other fake net traffic schemes would be the second-biggest area for organized crime after the drugs trade. If we extrapolate from the level of growth at the time of the study, conservative estimates would have us at $50 billion by 2025, about 10% of the total predicted value of the digital ad market. This increase has happened because digital ad fraud is easy to perpetrate and delivers high returns together with the weak stance that law enforcement agencies take when it comes to tightening things up on the internet.
According to Adobe, 28% of web traffic comes from bots or other non-human actors. In an investigation of thousands of client websites, one commentator estimated that the total cost of ad fraud might be as colossal as $66 billion.
Juniper Research stats produced for a white paper published by ad fraud detection company TrafficGuard state that worldwide, one in 13 app installs in 2018 wasn't from genuine users. According to this source, advertisers which display 1 million ads over a 24-hour period may pay for more than 100,000 fraudulent ads before detecting any issue.
A TrafficGuard whitepaper says that fraudulent activity cost digital advertisers $39 million per day in 2017. If we break down the cost of ad fraud using common tactics, app install farms/SDK spoofing are responsible for the biggest share at 42% followed by click injection fraud at 30.3% and click injection at 27.3%. According to the aforementioned analysis, the total cost of these ad fraud tactics sums up to $25 billion.
Preventing Ad Fraud
To prevent yourself from falling prey to ad fraud, you need to
Know your traffic source
Keep an eye on the data
Use Ads.txt
Target high-quality traffic
Target specific countries
Have a logical CPC
Keep an eye on the competition
Work with your traffic source
Be informed
Use affiliate fraud tools
Final Thoughts
Ad fraud statistics are crucial for anyone who is online. Be it an advertiser or publisher, one needs to be careful of these Ad Frauds happening. If you are looking at improving your product sales, read these Sales enablement Statistics!
Read More
False Advertising Statistics Debunked in 2022
10 Small Business Statistics To Know in 2022
Sources