SaaS, as we know, is the acronym for Software as a Service. You can access ready-made Cloud software available through SaaS packages, configuring them to your unique needs. You have to merely subscribe to the package, the variables being the number of users and the modules you wish to use.
Maintenance and regular updates with the latest knowledge base, methodologies, and technologies are regularly performed and hosted on the service provider's site, which ensures continuity of service and prevention against malware and hacking attacks. Integration between different applications is enabled.
SaaS Software can be accessed from any location and device since it is based on the Cloud.
The Importance of Inventory Management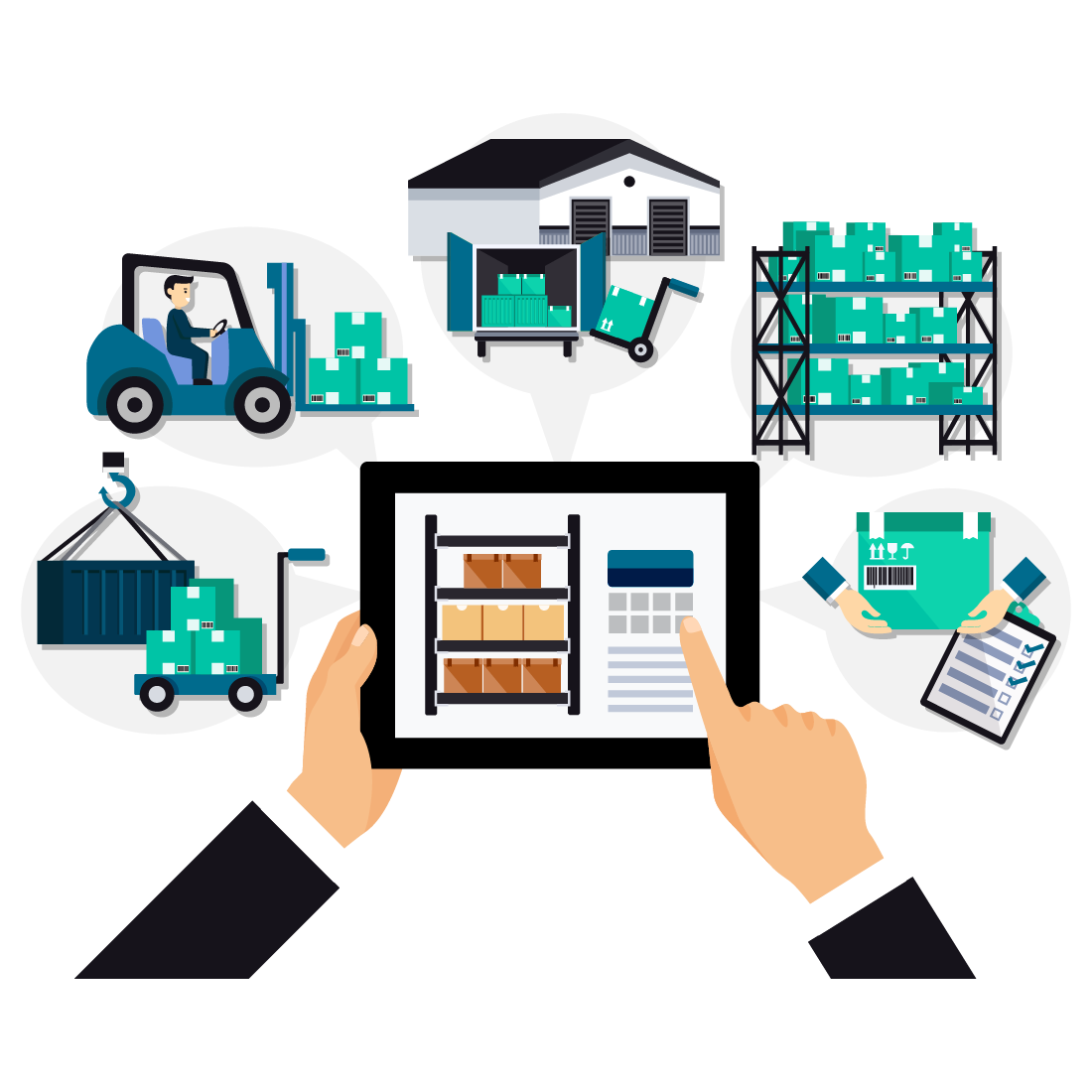 To guarantee Inventory visibility across the organization and automate processes from ordering, warehouse storage, transportation, asset tracking, etc. SaaS Software has gained immense popularity over the years in this domain.
Logistics covers the processes employed to reach goods to the ultimate consumer. There is a primary movement from the manufacturing unit to the warehouse. Subsequently, the goods may pass through various phases. It may move to the Distributor's location or to another subsidiary warehouse of the manufacturing organization from where stocks are supplied to replenish demand only against ready orders. From the distributor's site, it could move to the retailer, or sometimes it passes through a wholesaler. For large retailers, it usually moves directly to the retailer's warehouse from the manufacturing point or the warehouse of the manufacturer, bypassing the distributor.
In an e-Commerce environment, the stocks would reach the warehouse of the service provider from vendors, which will ensure that it reaches the ultimate consumer directly.
It exemplifies the need for Inventory Management throughout the organization till stocks reach the final consumer. The Supply Chain is a network of various organizations that collaborate (downstream or upstream) to reach the goods to the ultimate consumer so that he can obtain them in time and at the right place. With decreasing brand loyalties and customer reluctance to proceed beyond the immediate point of sale, stocking inventory at each touchpoint with the consumer is highly critical.
Customers today demand goods at their doorsteps and instantly. While on-time delivery of intact packages has always been important throughout the supply chain, it has become even more mission-critical in recent years as Omni-channel commerce and home delivery of customized products ordered from smartphones become more prevalent. The percentage of customers opting for e-Commerce deliveries is on the rise. Manufacturers, too, must ensure that their goods are available with the service providers at the right time and place to make deliveries as fast as possible, sometimes within half an hour. If a consumer realizes in the morning that he does not have tea at home or his toothpaste has been left behind at the hotel the previous day, he will need it within half an hour. Even if he is not an e-Commerce consumer, the shop down the road must have it. This holds good even for rural and semi-urban markets in emerging markets such as India.
Suppliers, manufacturers, distributors, and retailers thus have to improve their logistics processes to meet the demand for quicker, more convenient delivery of a wider variety of goods, simultaneously integrating their processes and systems to improve supply chain visibility.
SaaS in Inventory Management
The key deliverables from SaaS Software in Inventory Management are the following:
• Decrease Lead Time (or Turnaround time) – the time between raising an order and receiving the materials
• Better relationship with vendors, customers, within the organization, and third parties to more effectively manage the supply chain
• Technology integration
• State-of-the-art information systems that connect functions and organizations and ensure Inventory visibility throughout the organization, including expired and aging stocks.
Transportation Management
TM focuses on planning, optimizing, and executing the use of vehicles to move goods between warehouses, distributors, retail locations, and customers. Transportation is multimodal and can include ocean, air, rail, and roads.
The real challenge in transportation lies in optimizing the routes, deciding the mode of transportation, determining optimal shipment loads, clubbing orders, location of trucks, etc.
Not surprisingly, transportation management is a complex process that involves planning and optimizing routes and shipment loads, clubbing customer orders into a single vehicle, freight auditing, and payment. Logistics companies typically use transportation management system (TMS) Software to help meet the demands of transport-related logistics.
A typical TMS will perform the following functions:
Perform vehicle-tracking
Allocate packets to the riders or drivers within the city to reach consumers (for hyperlocal deliveries).
Route planning for transportation within the city.
Audit the freight charged based on the distances covered.
Provide a dashboard to enable the user to access the status of shipments, time taken for each shipment, make dynamic changes to orders if required, etc.
Provide an optimization engine to ensure the shortest route and most efficient mode of transport between two points
Allow automated passing of freight bills to match the billed amount with agreed transporter rates, the weight loaded, the distances covered, and justification for the route followed.
Cover Reverse Logistics for optimally transferring the inward movement of goods from distributors, consumers, retailers, etc., – either defective or returned by consumers due to cancellation of orders.
Provide a Mobile version of the Software for access anywhere around the clock.
Some of the Transport Management Systems available as SaaS are:
Upper Route Planner
Route4Me
TourSolver
WorkWave Route Manager
MyRouteOnline
Team RoadWarrior
Warehouse Management
Warehouse management includes such functions as inventory management and order fulfillment, and WM covers the infrastructure and processes. Regarding infrastructure, goods will have to be stored in defined bins with numbers marked. In some cases, cold storage or specialized storage modes will be required.
Typically, in a warehouse, several processes take place.
Stocks are dumped from the manufacturing point or another Warehouse. It is based on a stocking norm. Goods must be stocked in such a manner that they are easily retrievable and recognizable. Each different and unique item is termed an SKU or a Stock-Keeping Unit. Mix-up of SKUs is a constant phenomenon where the number of such items is high – for example, in paint companies where SKUs are based on the combination of Brand, Pack-size, and shade. Ensuring that the wrong item is not loaded is highly critical.
Orders that are received are passed onto warehouses which then will have to fulfill them, i.e., supply them at the minimum cost and within the committed time.
Loading and unloading of goods. Loading of goods is a critical and tricky component to ensure that the wrong goods have not been loaded. There are various methods used to ensure this. Firstly, either RFID or QR codes are recorded (stamped if not there) at the time of unloading. This is scanned at the time of picking and loading to ensure that the goods loaded are in line with whatever has been ordered, and the total weight loaded is cross-checked to prevent fraudulent loading of items not ordered.  
Disposal of Aged Inventory
Ensure proper paperwork is completed so that goods are not detained on the way.
Track inventory that includes receiving, put-away, locating of stock, cycle counting, order picking, order allocation, packing, shipping, and disposal of goods, tracking Aging inventory so that they are dispatched before they expire
Customs management, or global trade management, to ensure compliance with government documentation regulations whenever goods are leaving the country's borders.
Cross-docking. This process joins shipments from various warehouses at an intermediate point to create an optimal truckload to generate economies of scale for transport over large distances. It can be arrived at only through the application of mathematical models.
Analytics in Inventory and Warehouse Management
Predict the demand for a particular item based on sales patterns, store inventory close to the demand points, and plan on truck movements. Station drivers are close to the supply points for local supplies and deliveries.
Analyze trends in 3dispatch time and pinpoint the areas/personnel that are outliers in productivity
Analyse erroneous dispatches and reasons for the same
Arrive at cross-docking decisions
SaaS-based applications used in Inventory and Warehouse Management include:
Sortly
Inflow – Its Analytics and versatility are its strong points.
Zoho
Cin7 is mainly used by wholesalers and retailers,
3PL Warehouse Manager
Fishbowl Warehouse is the best solution for small businesses.
Oracle Netsuite – suitable for companies dealing in perishable goods. It also allows integration with various plug-in Software.
Oracle Warehouse Management Cloud – has a lot of ERP capabilities. Its strength lies in measuring productivity inside warehouses—an expensive option.
Manhattan WMS – Can fulfill both Warehousings as well as Inventory Management needs. It provides support for cross-docking.
SAP WMS – A full-fledged SCM solution as a component of SAP ERP.
Conclusion
Inventory and Warehouse Management needs are manifold – preventing aging of stocks, accurate picking and loading, inventory visibility across the Supply-Chain, compliant documentation, scientific Route Planning, monitoring of trucks, allocation of orders to trucks, etc. SaaS Systems play a critical role and will continue to do so. Innovative concepts like Cross-docking also serve as enablers. Technology changes, e-commerce, Robotics, and Reverse Logistics are expected to play a prominent role in the future and can be enabled again through SaaS applications.
Read More
Consumer Behavior Statistics in 2022