SaaS or Software as a Service is a software licensing and delivery model, where software is given out on a subscription basis and is hosted centrally. SaaS is also called 'on-demand' software, and its popularity has grown immensely over the recent past. SaaS continues to grow, as companies continue to expand both online and offline. Well, here are some useful SaaS statistics for 2022 that you should know.
General SaaS Statistics and Trends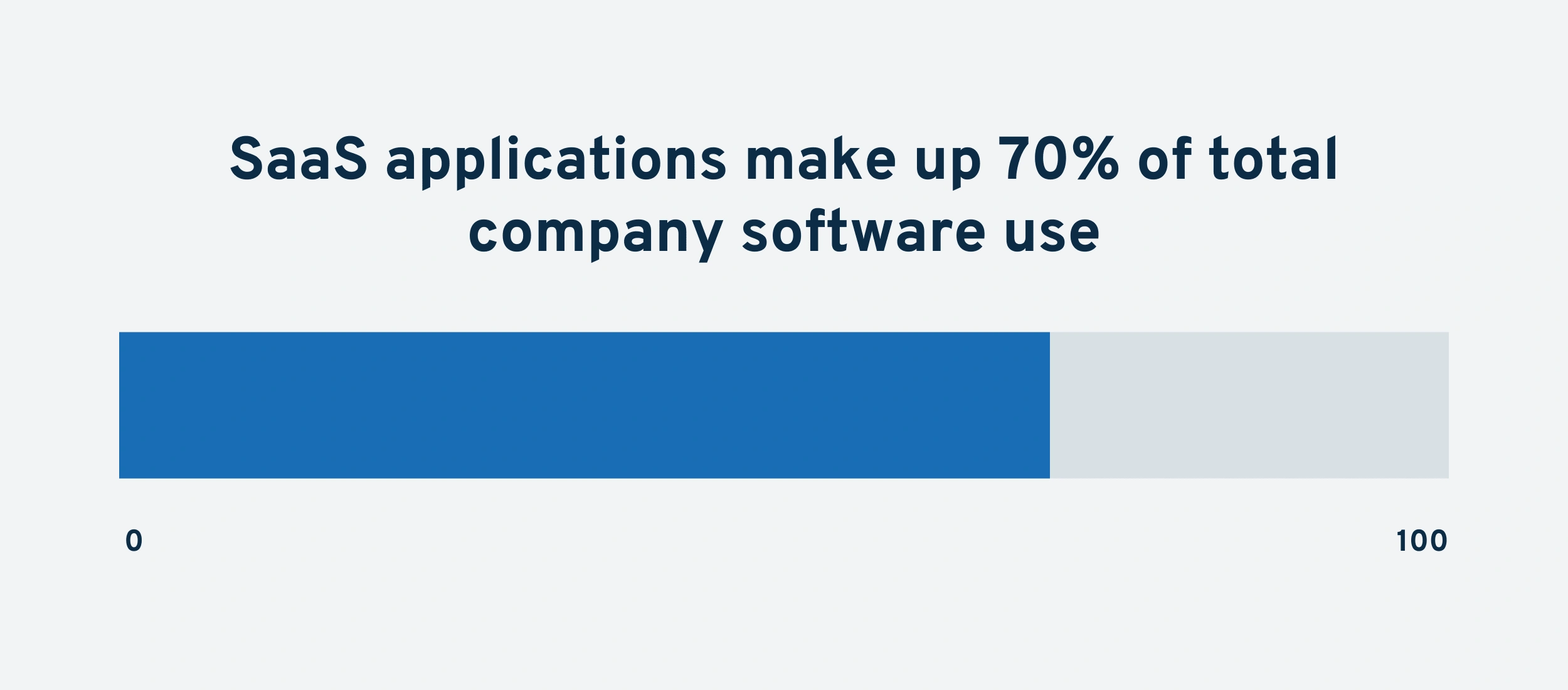 The market for Software as a Service has grown around 3 times in the last 5 years, with global industry revenue expected to reach 171 billion USD in 2022.
Around 38% of the firms that offer SaaS solutions don't rely on a monthly billing model, and instead, charge users according to the usage.
Since 2019, Salesforce has been dominating as the leading SaaS organization and is expected to grow by around 50% over the next 4 years. Salesforce has a market capitalization of around 300 billion USD.
Microsoft is the biggest SaaS provider and dominates the market with a 17% share.
The total market value of the biggest 10 SaaS firms exceeds 1 trillion, with America leading the way in terms of SaaS development.
Adoption Statistics 
Around 38% of firms depend on SaaS platforms for all their operational processes. This is why the SaaS industry grows at a rate of 18% annually.
Around 99% of firms depend on at least one SaaS solution for running their business, and 78% of small companies procure at least one SaaS tool.
93% of Chief Information Officers claim that adopting SaaS can help them reach business goals. Most businesses concentrate on cloud adoption to streamline their business process.
Around half of the government organizations in America use a public cloud. Around 38% of firms have switched to using SaaS and a public cloud to safeguard their data from disasters that affect local servers.
Around 37% of companies depend on cloud services because of the flexibility offered. Companies allocate around 15% of their budgets to procure SaaS tools, and on average, one firm uses around 80 SaaS applications for various processes, as they are helpful in 2 ways – for marketing perspective and acquiring clients.
Churn Statistics 
Churn rate is the share of customers who have stopped using a product for a particular period. On average, the churn rate of any SaaS firm is around 6-10%. 1/3rd of Saas companies report that their churn rate has spiked over the last year.
SaaS Startups may report up to a 60% revenue churn rate, which is the percentage of revenue lost due to returning customers or subscription renewals that don't renew. Around 42% of customers state that it is the quality of support that prompts their decision to stop using SaaS applications, and around 69% of firms take the number of customers into perspective while calculating the churn rate.
Purchase and Usage Statistics 
Companies spend around 2000 USD per employee per year on SaaS subscription expenses. Around 25% of the company's budget is spent on a public cloud and other SaaS solutions. Moving to the public cloud is beneficial – it has dropped IT maintenance costs by around 16%.
83% of companies state that their employees store sensitive data of clients on 3rd party cloud services without seeking permission. Around 48% of employees depend on one SaaS app that isn't distributed by their IT departments. For instance, they may depend on GoToMeeting for video conferences instead of using Google Meet with their corporate account.
Around 26% of businesses in the EU depend on a public cloud, with companies spending around 15% more than their original budget, using apps that they don't need.
Every 10th SaaS product that is purchased remains unused for the first 90 days. Around 61% or more than half of all businesses have more than 100 SaaS applications used by employees.
Around 77% of managers wish to get solutions that can help them measure the efficacy of their cloud services.
Customer Statistics 
The 2 major reasons why customers switch to cloud-based solutions are flexibility and agility. SaaS trials are quite successful, with around 84% of new users signing up for services after a trial. More than 70% of SaaS trial users who receive calls from customer support or sales management, increase their engagement, proving that customer care is important for SaaS firms if they want higher revenues.
Around ½ of the customers who sign up for subscription-based services use their accounts less than once a month. Around 14% of SaaS users use their services once a week, and only 17% of paying clients utilize their SaaS tools on a daily basis.
SaaS companies find it cheaper to upsell existing clients instead of generating leads. Around 67% of customers are satisfied with SaaS quality standards, with the demand for it growing constantly. Around 76% of customers are happy with SaaS cloud services, with 64% ready to pay even more if guaranteed the same returns.
Regional Statistics 
When it comes to SaaS companies, America is leading, with more than 15000 SaaS firms in the US.
UK, Canada, USA, Germany, and France are the nations that are actively involved in the SaaS industry. Each nation has around one or two thousand SaaS firms.
In Asia, India is the leading nation while in Latin America, Brazil leads in terms of SaaS startups.
The industry in the UK, EU, and China may double over the next half-decade, with SaaS brands being the most popular type of new business in South America.
Category Statistics 
Zoom's market revenue has increased 5 times over the last 5 years. Zoom's revenue was around 1 billion in the 2nd quarter of 2021. Zoom downloads crossed 400 million, putting it on top of all other apps downloaded. However, CISCO has experienced just 1% growth in the SaaS market in 2021.
In the CRM space, Visma is a leader, making almost thrice as much revenue as other companies, reaching around 2.2 billion USD in 2021.
Content Marketing Statistics 
Around 15% of SaaS firms don't have blogs. Around 36% of them attract new subscribers by way of blogs. This shows that good content marketing can help boost a SaaS company's revenue.
WordPress remains the most common CMS used by SaaS companies to share content, with 54% of SaaS firms using it. Hubspot is popular among 12% of SaaS firms, while 13% of firms in the global market depend on podcasts for acquiring customers.
Around 41% of content marketing managers dealing with SaaS projects emphasize the need to launch podcasts for acquiring customers. Around 62% of firms claim that high-quality content creation requires effort. Of all the online webinars, 25% are created by SaaS firms. A whopping 42% of SaaS firms add call-to-action elements on their blogs to boost sales.
Email Marketing Statistics 
Most of the emails sent by SaaS firms are automatic, keeping users abreast regarding changes. Welcome emails are opened around 5 times more than other messages, which is why SaaS startups stress email marketing as a vital way to get leads and maintain relationships with existing clients.
Automated emails help SaaS firms generate a massive 320% more revenue than emails created by marketing managers. The open rate isn't much – just one in 5 customers open emails sent, and there's a CTR of 2.5%. Most businesses depend on email to communicate with SaaS firms.
Conclusion
So, these were the top SaaS statistics across verticals for 2022 that you should know. For more such statistics, check out our blog here!
Read More