When we use the term SaaS, it implies Software As A Service. SaaS is when users acquire software on a subscription basis. The SaaS market has witnessed growth at a phenomenal rate in recent times. This technology has revolutionized the business world and has brought in several improvements in the business model of several companies.
SaaS provides its users with security, constant updates, negotiable payment options, and enhanced collaboration. These factors play a big role in determining the success of your company. All these factors have contributed to the rise of the SaaS market, and it is expected to grow even more exponentially than the current rate.
Top SaaS Market Statistics 2022
Companies are, on average, spending more on SaaS each year. The market value should reach around a massive figure of $623 billion by the year 2023. Let us discuss the data and statistics of the Saas Market for the year 2021 in detail.
SaaS Market Size
Many reports have been published about the Saas industry, and all of them have provided distinct projections. However, they all seem to agree on the fact that the SaaS market is going to grow in the coming years.
Let us discuss numbers now. The SaaS market is expected to reach a valuation of $272.49 billion by the end of the year 2021, with a CAGR of 20.8%. For the year 2025, the value is expected to reach a value of $436.9 billion with a CAGR of 12.5%. The past growth rates of the industry are also excellent. All reports have predicted a growth rate of at least 10 percent for the coming five years.
SaaS Industry Condition
With SaaS going through some excellent growth, more companies are switching to SaaS and utilizing it to improve their business model.
Around 38% of businesses have their systems running completely on SaaS.
Close to 73% of firms would be implementing SaaS by the end of 2021.
Companies would be increasing their spending on SaaS and double it by 2021.
Approximately 86% of companies that use SaaS have witnessed more employee engagement as compared to other companies.
Market Segmentation
Yet, investors still see promise in this region due to the significant opportunities available here. SaaS has a slow acceptance and adoption rate across APAC. This means that many products are dependent on the international market to be successful.
Latin America is also witnessing rapid strides in the Saas market in their country. The e-commerce sector is the greatest beneficiary of the same. Europe is also one of the biggest markets, second to the USA. European companies place their vision in globalization and like to monetize their efforts at an early stage.
By type: Saas has many services in its portfolio. Restrictions are disappearing with varied and flexible price models to adjust all kinds of products and services. However, some segments are the most popular with SaaS, such as management, CRM (Customer Relationship Management), marketing, data, E-commerce, data.
However, there are other types of SaaS in the market too that command a good demand. Some companies do not cater to the above-mentioned categories yet are still able to make their mark.
By market expansion type: SaaS can be divided into two categories based on market expansion: Horizontal Saas and Vertical Saas. Horizontal SaaS companies do not target a specific industry but provide their services to all sectors. Examples of horizontal SaaS companies are Salesforce and Slack.
Vertical SaaS companies are the opposite and only provide solutions for a specific niche and sector. They customize their services to suit a particular category or sector. Most of the top SaaS companies are horizontal ones, and you might think choosing them might be the best; however, this is not the case. Vertical SaaS will make things very easy for you if we compare the two.
It has been proven through statistics that vertical SaaS lets you acquire customers much easier, and the competition also decreases to a large extent. Specific vertical software is trending in the industry, and investors also love such companies. The sectors that use vertical SaaS the most are media, medicine, government, insurance, banking, and communications.
If we consider the vertical market spend on SaaS services, we find that:
18% of the money was spent by media, communications, and service companies.
16% expenditure was incurred by the government and government-allied companies.
12% of the total amount was shelled out by pharmaceutical, manufacturing, and life science businesses.
5% of the spending was done by healthcare companies.
4% of the total expenditure was incurred by retail firms.
3% of the total amount was spent by energy, power, and utility companies.
The remaining 2% amount was spent by educational institutions and educational companies.
SaaS Rate of Growth
As we mentioned earlier also, the SaaS market is growing at an appreciable rate. Let us discuss the numbers in detail now.
SaaS companies have a presence in more than 100 nations.
In the United Kingdom, less than only 2 percent of companies do not use the cloud.
In Asia and the Pacific, 90% of the companies are already using a multi-cloud environment or are planning to use one.
Globally, the SaaS workload on loads could cross the 380 million mark by the end of 2021.
Currently, the SaaS market growth rate is close to 18 percent.
As the automation and agility features for SaaS are getting enhanced, the market growth is increasing in response.
Attacks by hackers and a shortage of skilled workers could cause retardation in growth.
SaaS features are compelling the market to grow; however external conditions could cause some restrictions to this growth.
Largest SaaS Companies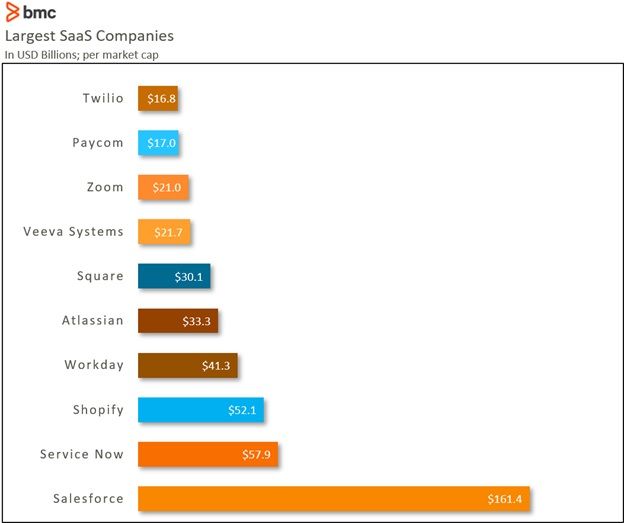 Large firms such as Microsoft Corporation, Adobe Inc., Salesforce.com Inc., Oracle Corporation, and SAP SE use SaaS. These companies, when taken together, have a market share of more than 50 percent. If we compare this stat with earlier years, the biggest eleven businesses in 2011 had a market share of less than 50%, and none of them individually had a market share of more than 11 percent.
This trend is not going to change anytime soon in the future since these big companies have a rate of growth higher than the industry average. Another interesting fact is that more and more companies are foraying in the SaaS field. By the end of 2020, there were close to 15,530 such companies globally. A new phenomenon has also arrived on the scene called micro SaaS. It refers to a mini product operated by a small team or an individual whose purpose is to solve only one problem. The product is designed to resolve only one issue.
Micro Saas boasts of higher margins with smaller expenditures. Since they have a small organization, their structure is quite simple, and they can make their solutions flexible per the client's need. They can also directly contact their customers and make changes quickly as per the demand. These companies do not need large investments, which makes them independent of any outside interferences.
Pricing Data for SaaS
SaaS companies modify their pricing strategies to suit the needs of different categories of customers. Here are some statistics for the pricing data for SaaS businesses.
Approximately 38% of the SaaS companies only charge their customers when they use the service or product. Their pricing strategy is based on usage.
40% of SaaS businesses employ a value-based strategy and fix their prices around the value perceived by the customers for their product or service. This computed value is different from production cost or market cost and is independent of competitive pricing.
Half of the SaaS businesses have user-based pricing where they charge the companies per customer.
31% of businesses were reported saying that they offer negligible to very few discounts.
Over 50,000 SaaS vendors provide a discount of 30% to their clients.
Many companies provide a free trial period. Most of them give it for 30 days.
Market Drivers for SaaS users
According to the data we have, 80% of companies take the help of one or more than one SaaS product. 73% of businesses are planning to make their system based on SaaS by the end of 2021. Transitioning to cloud software lets companies cut costs and allows them more flexibility. Many factors have accelerated the use of SaaS by so many firms.
The growing use of smartphones
Smartphones and mobile phones had occupied their spot as an essential part of our personal lives a few years ago. Now, they have started becoming prominent in the business world as well. Apart from calling, smartphones have started having many other useful functions as well.
SaaS products function very well on phones. The services do not take up a lot of space, and you can view and work on them from different devices, updating them regularly. SaaS also enables quick team collaboration and adds efficiency to it.
Let us have a look at the numbers associated with mobile SaaS. The revenue from this is expected to cross $30.5 billion by the year 2022. Corporate mobile SaaS is also growing at an exceptional rate and will touch the figure of $7.4 billion in 2022. When we draw up a comparison with the year 2016, the scenario then was that the revenue of corporate mobile SaaS was $4.4 billion.
Artificial intelligence
As AI technologies are progressing at an advanced rate, SaaS is benefiting from their success. Many new startups employ AI-based technologies for their products or services. Revolutionary technologies have the power to bring phenomenal innovations to sectors that were perceived to have settled solutions and leaders.
The use of artificial intelligence in a smart way puts companies in a good position to directly tackle big SaaS firms.
Final Thoughts
These are among the top SaaS Market Size Statistics for 2021. These stats should help both established and upcoming businesses to understand the market, and then take decisions accordingly. If you are looking to acing your Sales revenue in 2021, check out our Sales Statistics article here!