Software as a service (SaaS) is one of the most rapidly developing divisions of the IT business. SaaS models, which are centrally located on a remote cloud network, function on a subscription basis and are becoming helpful for many enterprises because of their flexibility, cost, and many other reasons.
In the upcoming time due to the covid pandemic, many companies will require remote work from their employee so the need for SaaS will only increase. In this post, we at SaaSworthy have included some of the most important trends and growth figures for SaaS solutions in 2022.
SaaS spending vs overall IT spending
Despite the fact that the epidemic harmed many businesses and economies throughout the world this year, but still, cloud growth skyrocketed.
Senior principal analyst at Gartner, Brandon Medford says"Organizations are advancing their timelines on digital business initiatives and moving rapidly to the cloud in an effort to modernize environments, improve system reliability, support hybrid work models, and address other new realities compelled by the pandemic."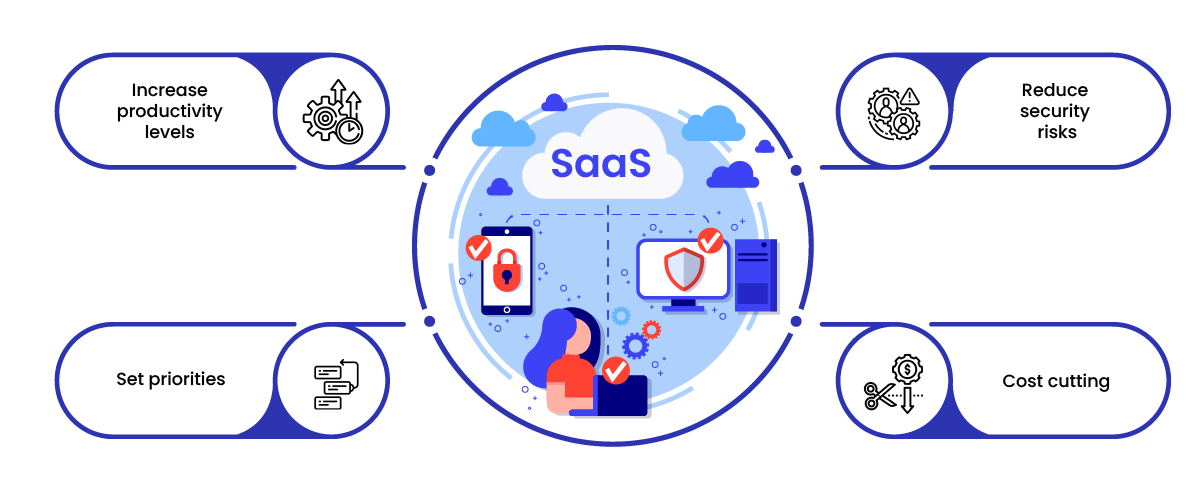 Gartner also adds that end-user expenditure on public cloud services is expected to reach $396 billion in 2021. It further has the potential to expand up to 21.7% in 2022.
Senior research director at Gartner, Henrique Cecci said. "The economic, organizational, and societal impact of the pandemic will continue to serve as a catalyst for digital innovation and adoption of cloud services, This is especially true for use cases such as collaboration, remote work, and new digital services to support a hybrid workforce."
Cloud growth: SaaS vs other cloud services
When compared to other cloud choices, SaaS provides more functionalities. As more firms embrace SaaS solutions for a range of business operations, far beyond the original SaaS domains of core engineering and sales applications, the total growth of the SaaS market will increase over the next few years.
Compared to other cloud services, SaaS has a substantial lead because it was the first fully successful cloud service. According to Gartner, SaaS will continue to dominate the market far into 2022.
However, when compared to other cloud services such as platform as a service (PaaS) and infrastructure as a service (IaaS), both of which are projected to double from just 2020, the rate of SaaS growth is slowing.
Largest SaaS companies
Here's a look at the 10 largest publicly owned SaaS companies per market cap in the first half of the year 2021.
If you compare the growth of these companies to similar numbers from 2020, it comes out to have increased. For example:
Salesforce evaluation in January 2021 was $161 billion compared to $251 billion in September 2021.
Also, Shopify grew from $52.1 billion in 2020 to more than $185 billion today. That's 225% growth in 20 months!
Microsoft and Oracle are absent from this list. They are large IT firms but calling them SaaS providers is incorrect because On-premises software sales account for a large amount of their business.
Giant enterprises are being pushed to quickly move their software solutions to a SaaS consumption model due to the desire for subscription-based pricing structures.
The Total Cost of Ownership (TCO) of SaaS solutions is comparable to on-premise software deployment strategies. This suggests that SaaS solutions have a lot of room to expand in the coming years. Since a rising number of clients may benefit from the same product features through the subscription-based pricing model, Large business software firms such as Oracle, Microsoft, SAP, and IBM are expected to maintain their market share for enterprise software products.
SaaS acquisitions & IPOs
Entrepreneurs, inventors, and businesses have been motivated to build new SaaS solutions due to the economy's stability and investor interest in scalable cloud solutions. Of course, revenue predictions aren't the only factor in SaaS growth. Acquisitions of SaaS startups seem to be happening on a daily basis, as larger organizations search for the next great SaaS thing.
SaaS acquisitions in 2021
Dropbox acquired Docsend for $165 million. Docsend provides a safe and reliable interface for users to share and keep track of their documents.
Kenna Security, a global leader in risk-based vulnerability management, was acquired by Cisco.
In July, ZoomInfo paid $575 million for chorus.ai. Chorus.ai is a leader in conversation intelligence.
Panasonic Corporation bought global end-to-end digital fulfillment platform provider Blue Yonder.
Recent SaaS IPOs
Industry leaders have continued to lean on SaaS solutions because of the recent shifts in the workplace landscape. Multiple SaaS firms will be able to IPO in 2021 as a result of the increased business. For instance, compared to the same period in 2020, the number of enterprises specializing in SaaS that have IPOed has surged by 125% in 2021.
Given below are some of the most important SaaS IPO events from the previous year.
Couchbase
Couchbase, a NoSQL database expert, went public on July 22 and saw a price spike of 39% to $33.25 a share on the first day, valuing the firm at more than $1 billion.
SentinelOne
SentinelOne, a cybersecurity startup, debuted on the stock market on June 30 and closed at $42.50 per share, valuing the company at $10 billion. The firm specializes in endpoint security, and SentinelOne uses machine learning to provide cyber security.
Confluent
Confluent, which went public on June 23, concluded the day at $36 a share, valuing the company at $9 billion. The popular open-source Kafka streaming data platform is available in an enterprise edition from the firm.
Sprinklr
At the time of its IPO in June, Sprinklr was valued at $4 billion at $16 a share. Sprinklr is a software company that makes content marketing, advertising, and media management solutions that are utilized by some of the world's most well-known businesses.
SaaS adoption & workforce size
The growth of SaaS can also be measured in terms of adoption. Are customers utilizing the same amount of SaaS products, less, or the same number of SaaS products?
Though initially, SaaS was ideal for small businesses and startups, SaaS is now an accepted, cost-effective alternative that enables flexibility and digitalization for businesses of all sizes. In conclusion, in recent years, the number and types of consumers of SaaS products have grown.
Recent research has shown that:
The growth rate of the SaaS market is around 18% annually.
99% of businesses will have implemented one or more SaaS solutions towards the end of the year 2021.
Almost 78% of small enterprises have already made investments in the Saas market.
The use of SaaS in the health sector is currently growing by 18% each year.
Agility and scalability are two of the main motivators for implementing SaaS solutions, according to 70% of CIOs.
Several variables contribute to the relation of SaaS adoption to workforce size:
Small businesses often focus on a small number of tasks, which necessitates a small number of goods. Users working on separate projects may have their own requirements for SaaS products as the business expands and the number of teams increases.
To minimize the costs and security risks associated with shadow IT, or the use of unauthorized software at work, major enterprises make it easy to supply as many SaaS services as needed.
Users that employ numerous SaaS solutions to meet their technological needs may choose from a variety of products targeted at the same audience and application use cases because large-scale corporate projects are so complicated, no one SaaS solution can provide all of the required features.
Why is SaaS so popular?
Despite their size, established businesses aren't dismissing SaaS. Instead, they're fully committed to the as-a-service business model, which allows them to meet a wide range of demands with flexible and current solutions.
Despite limited IT resources, customers increasingly choose the subscription-based pricing model to meet expanding IT demands, particularly for small businesses and startups.
As a consequence, a favorable competitive landscape exists, allowing for healthy competition among SaaS companies as market demand grows tremendously.
According to research, the average number of rivals for SaaS companies starting around 2012 was less than three. By the end of 2017, every SaaS company was up against nine other businesses in the same market segment. Between 2007 and 2017, the number of products available for SaaS marketing solutions expanded from 500 to 8,500.
Acquisitions, IPOs, and growth rates all imply that this trend will continue.
SaaS benefits for the customer
SaaS products deliver numerous benefits to the customer:
SaaS offers greater strategic value than on-premise software deployments. Software deployment time has been cut from weeks and days to a few minutes thanks to the SaaS model.
Users have a diversified collection of resources to satisfy a variety of requests thanks to the abundance of corporate SaaS solutions accessible. As a result of the many features provided by SaaS solutions that are meant to improve customer experience, enterprises are seeing increasing levels of staff engagement.
Security upgrades, bug fixes, and feature enhancements can also be pushed out on the fly by SaaS suppliers. On-premise installations formerly needed these capabilities to pass through numerous levels of corporate regulations and control before reaching end-users.
Enterprises and software providers have found it simpler to supply the essential features and functionality to end-users thanks to SaaS technology, which has contributed to the popularity of SaaS solutions over on-premise software products.
SaaS Trends in 2022
Ultimately, the rise of SaaS solutions will go on as it is going. SaaS is being used by both small and large enterprises, and as these possibilities expand, this ratio will only rise. To get more such insights, have a look at the following articles.
Read More
SaaS Companies That Got Funding in 2021
**Report inspired by BMC's findings and Statista's Surveys