The year 2020 has changed the SaaS industry and brought it to the forefront. So whether you are an entrepreneur in the space, an employee, or just an enthusiast, SaaS conferences are definitely something that will give you insights into what's happening. These SaaS events are also a great way to network with relevant people, be it finding ideal employees or get investors. So if you are looking to attend a SaaS conference in 2021, then read on to find the ultimate list of the events planned this year.
Jan 26th to 28th
If you're in the SaaS space, you must've heard of the term called Product-Led Growth. The movement suggests that SaaS companies should focus on getting customers, and in turn, growth, through the product itself, and not a sales team. The conference has speakers from amazing companies such as Amplitude, Intercom, Pendo, and more.
Jan 27th
SaaStr is the organizer of the biggest offline conference in the world of SaaS, and it's fully embracing the shift to virtual-only events. Continuing its streak of last year, it has planned a slew of events in 2021 as well. The first one starts on Jan 27th, with 30 speakers from leading companies such as Snowflake, Zoom, and more. The SaaStr University is completely free to attend.
February 23rd to 25th | Networking on March 3rd and 4th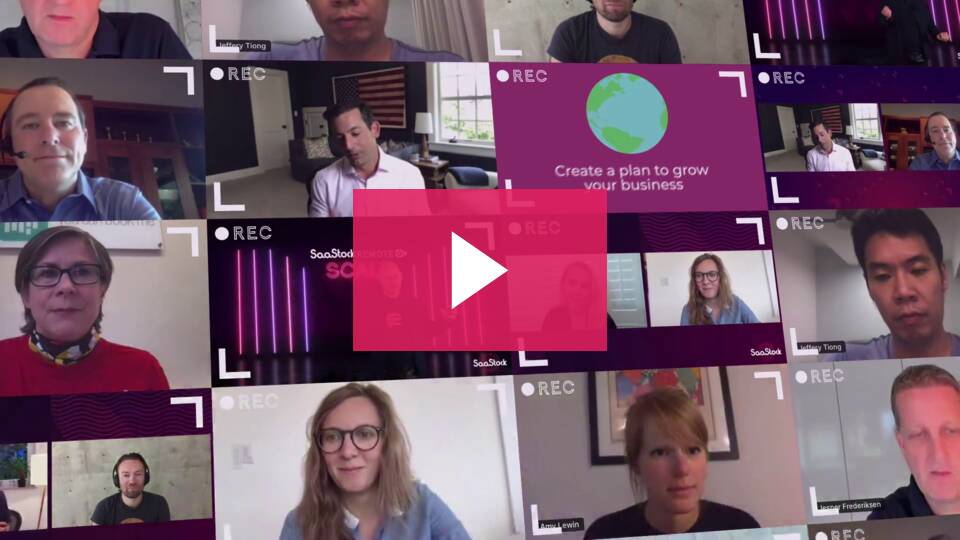 Europe's SaaStock is a popular organizer of SaaS conferences, and it conducted its first digital event in 2020. This year, the SaaStock Remote will have 3,000+ attendees and 50+ speakers. Interestingly the five-day event will have three days for sessions, and two days dedicated for networking. The speakers will be from the companies like Calendly, Wistia, and more.
March 9th to 10th
As the name indicates, SaaStr Build is aimed at those who want to get practical tips as to how to build and elevate their SaaS business. The digital event will have over 50 speakers such as Jell Lawson from Twilio, Roy Mann from Monday.com, Miguel Carranza from RevenueCat, and more. The best part about it is that the SaaS conference is free.
March 16th to 20th
While not necessarily a conference for SaaS, SXSW is where you get to know what's happening in technology, and how it intertwines with culture. However, we do know that there would surely be a ton of speaker sessions that are meant for the SaaS enthusiasts.
April 25th to 27th
MicroConf helps bootstrapped SaaS companies grow their businesses to multi-million dollars. It does so by having speaker sessions, roundtables, and more from the people who've done it. The SaaS conference will be held offline in Denver.
April 26th to 27th
The online conference will have interactive discussions about growth strategy, product management, company culture, leadership, and more. The SaaS event in 2021 will have up to 300 attendees and speakers such as Joel Gascoigne, Buffer and Sahil Lavingia, Gumroad.
May 6th
The SaaStock event will focus on the SaaS companies in Latin America. The one-day SaaS event will bring founders, executives, and investors for discussions, speaking sessions and networking opportunities as well.
May 26th to 27th
The two-day SaaS event is catering to C-suite executives to give them insights on scaling the enterprises. Be it CIO, CXOs, or CEOs, the virtual event will have speakers from the leading SaaS players and also have the networking opportunity.
July 7th
SaaSGrowth is a Europe-based conference that's for B2B sales and revenue leaders to help them grow faster. The one-day virtual event will have a number of speaker sessions, as well as networking opportunities. While the organizers are yet to share the schedule for the upcoming 4th edition of the conference, speakers at its previous events include the likes of Nathan Latka and Aaron Ross.
SaaStr Money
July 13th to 14th
The name says it all – SaaStr Money is focused on finance, fintech and funding. The event will help understand how to get the best funding for your SaaS company, and share latest trends in the world of funding.
September 2nd
It's the first-ever SaaStock event aimed at the burgeoning Asia Pacific region. It's for the companies in this region to get global insights as to how to take their SaaS product to the next level.
Inbound 2021
September 7th to 10th
Meant for product managers, marketers, founders and more, the conference will have more than 70,000 attendees. The event is hosted by HubSpot, and it'll have practical insights, networking opportunities, and more.
September 27th to 29th
The only SaaStr event that's bringing back the offline meetups is its marquee conference. Dubbed SaaStr Annual, the three-day event will be done in a hybrid format. The 7th edition of the event promises 100s of workshops, mentoring sessions, and enlightening discussions.
Fall 2021
The only conference in America that's focused on recurring software businesses, Recurring Revenue Conference is scheduled for the months of Fall. While the exact dates haven't been disclosed, it'll be an in-person event in California.
October 11th to 13th
Meant for companies in the EMEA region, the virtual event will not be much different from its other conferences. Along with ton of insights through speaker sessions, it'll also have a lot of networking opportunities.
November 1st to 4th
Web Summit is among the most popular conferences that brings the who's who of the industry at one place. While it was held online in 2020, it'll be organized in Lisbon this year. While the details are yet to be out, a look at the speakers in the last year's conference will indicate that it's not to be missed. There's Eric Yuan from Zoom, Cal Henderson from Slack, and Michelle Zatlyn from Cloudflare among others.
December 14th to 15th
Ending the year on a high note, SaaStr's last SaaS conference in 2021 is SaaStr Scale. Targeted at companies that are already growing, but want to go to $1billion and beyond, the event will have a ton of workshops, networking sessions, among others.
Be sure to bookmark this page if you want to know all about the SaaS events in 2021 as we'll continuously update it.