The past week was action-packed in the world of SaaS. What took everyone by surprise and got everyone talking is Adobe's $20billion acquisition of Figma. There are multiple viewpoints on this – right from how it's difficult for SaaS startups to remain independent against the established giants to Adobe overpaid for Figma (50x of its $400million ARR). While we prefer not to take sides, some of the analyses are really good, and we believe you'd like them too (mentioned below). But of course, the last seven days had a lot of other things, which shouldn't be missed either, so keep on reading.
Why Figma is worth $20billion and other observations from the Adobe acquisition
Figma's record-breaking sale to Adobe delivers billions to top VCs
The Adobe-Figma deal is historic for tech startups — if it goes through
Other news of the week
Oracle reports sales that meet estimates, touts Cerner deal
Speaking of conventional players, Oracle announced its quarterly results. In the first fiscal quarter, its sales were $11.4billion, which met analysts' expectations. Its cloud revenue increased by 45 percent to $3.6billion. The company also highlighted how its $28.3billion Cerner acquisition will help it make progress in the healthcare industry.
Canva moves beyond graphic design to launch a visual worksuite
While it got slipped under the radar due to Figma's acquisition, graphic design software Canva made its intention clear about becoming a full-fledged workplace suite. It unveiled Canva Docs, Canva Websites, Canva Whiteboards, and Data Visualization. Interestingly, these products are interoperable, allowing you to make a presentation, and turn that into a document or website.
Zoom CEO Eric Yuan on how the company is going way beyond video calls
It wasn't just the behemoths that made it to the news last week, video conferencing software Zoom shared how it's going beyond video calls. It changed the name of its Slack-like business messaging tool to Zoom Team Chat (from Zoom Chat). It also announced its new logo which showcases each of its products by turning two Os in "Zoom" for encircled icons.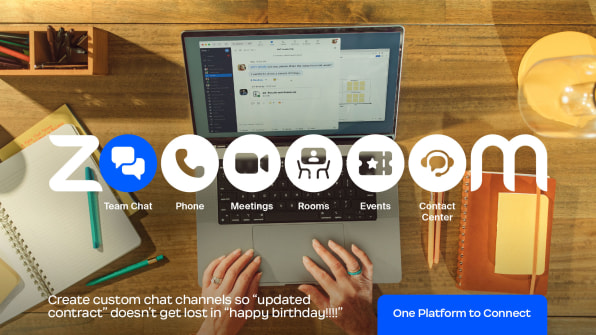 But that's not it, reports suggest that Zoom is working on email and calendar apps to take on Google and Microsoft.
Twilio to lay off 11% of workforce
Not everything is rosy in the world of SaaS however. Call center software Twilio laid off 11 percent of its employees as its pursues profitability by 2023. Thankfully, it's offering generous benefits to the employees who have been laid off, and will incur $70- to $90million in charges for its restructuring plan.
SaaS funding
HR startup Atlas secures up to $200M in funding from Sixth Street Growth
HR software Atlas has nabbed a significant Series B investment as it plans international expansion and to improve its product offerings. It has received up to $200million from Sixth Street Growth. It already has subsidiaries in over 160 countries, through which it can hire workers on a company's behalf in the international markets and manage payroll processing, employee benefits, etc.
Zesty lands $75M for tech that adjusts cloud usage to save money
As the usage of cloud platforms is increasing, it's important for companies to keep a track of their spending. Enter Zesty, which helps in scaling resources to meet demands in real time. It has announced a $75million Series B round co-led by B Capital and Sapphire Ventures.
Keeping tabs on the tab, Cledara raises $20 million to go all in on US market
While Zesty helps in keeping cloud spending under control, Cledara does that for the ever-exploding SaaS products being used inside an organization. The SaaS spend management platform has secured $20million in a Series A investment. The round was led by CommerzVentures, and Cledara also highlighted that the software purchased through its platform has increased by 830 percent in the last 12 months.
Must reads
Salesforce co-CEO, Twitter Chairman Bret Taylor keeps calm in chaos of Musk's bid to scrap deal
Cisco ex-CEO John Chambers is taking on his former company with new networking startup called Nile
Listen to
The key to successful scaling across markets, from a founder turned VC with OMERS Ventures Managing Partner Harry Briggs
SaaS has become global, but is it really to serve international markets? In this episode, OMERS Ventures' Managing Partners Harry Briggs and Jambu Palaniappan share their learnings of scaling globally. While Harry was a founder of a beverage business that had customers in over 35 countries, Jambu led Uber's expansion in EMEA markets.
Thinking the unthinkable – Posist's marketing journey
How do you market your product to the audience who isn't digital savvy or is don't feel the need for any software? Well, that's the conundrum that Posist, a POS software for restaurants faced. Its founder Ashish Tulsian talks about his journey, how they hacked SEO growth and how they utilize content marketing. The episode also dives deep into finding domain-specific content writers, how to leverage event marketing, and more.
Watch
SaaS acquisitions w/ Colin Keeley, Founder at Verne (MicroAcquire'd 2x)
Over the last couple of years, the Solopreneur or indie entrepreneur has become quite popular. That's why we're also seeing a rise in platforms like Microacquire which acts as a marketplace for buying or selling such businesses. In this podcast, Microacquire's Andrew Gazdecki talks to Colin Keeley who sold his business for six figures. The video also shed light on Verne, a VC firm that purchases profitable SaaS companies and is founded by Colin.