Verdict:
"One of the most user-friendly camp management software out here. CampSite doesn't seem to be a big Internet user, and even though our accounting software has issues, CampSite hasn't. Almost all of the business processes that are currently in use may be configured and customized using CampSite.
What Do We like? 
Parents can enroll students online utilizing the camp's customizable enrollment options and make secure credit card payments with electronic signatures using CampSite's registration function.
The advanced reporting tool of CampSite provides access to the camp's data and allows users to apply various fields and filters in real-time to create completely unique reports.
In order to assist camps in complying with HIPAA regulations, CampSite features a restricted access electronic medical record module that makes it easier to collect medical data through the parent dashboard.
Because CampSite is a member of Amazon Web Services, user camp data is secure. This ensures high requirements for data encryption, user authentication, permissions, security, dependability, and backup.
 What To Improve? 
Integration System 
The Price point needs to be revised 
Overview Description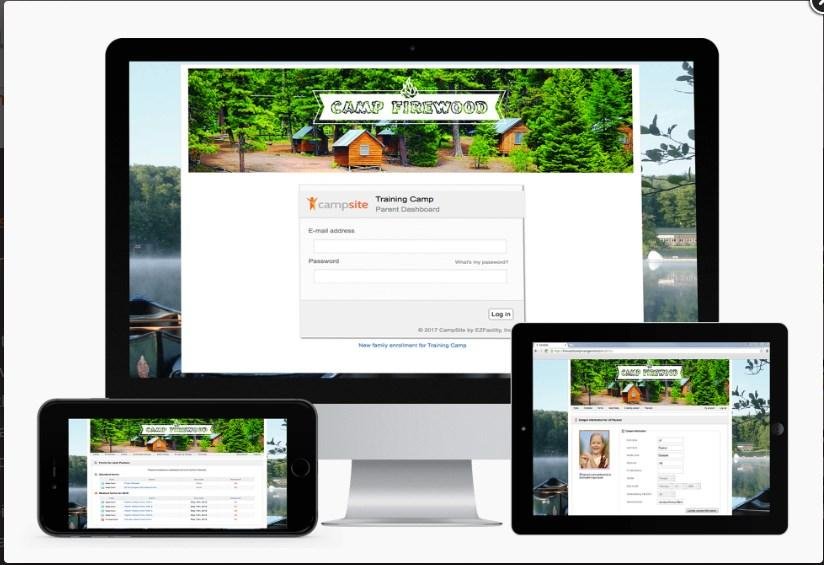 Day camps, residential camps, educational institutions, and specialist programs can use CampSite, a cloud-based camp management software. Some of the main features are online camp registration, a dashboard for parents, financial administration, billing and invoicing, user management, reporting, and analytics.
Online forms, communication tools, lead management, a bunking board, and email notifications are just a few of CampSite's other features. Additional capabilities are available for users to choose from, including staff recruitment management, medical management, attendance monitoring, and control of transportation.
The online registration module enables parents to register their children and receive details about nearby classes and activities. Users of the financial management module can make payment plans, process credit cards in batches, perform reconciliation, and produce reports. Based on recent leads, the lead management and analytics module keeps track of the most popular locations and evaluates the number of leads received each month against the same period last year. Support is offered over the phone, via email, and through a specific support specialist.
CampSite Features: What Makes It Different? 
Make it simple to provide additional "extras," display required disclaimers and documents, establish enrollment alternatives, collect payments, and obtain an electronic signature. 
Enable parents to easily register their campers, complete documents, and even make payments from their dashboard
You can export data, change data in bulk, add financial transactions for several households at once, send an email blast, or just print paperwork and address labels.
Financial and Billing Suit
Create individualized payment schedules to batch-process credit cards and automatically charge parents.
User Administration & Email Alerts With the limitless user capacity, create as many user accounts as necessary for full-time and seasonal staff.
Communication Tools & Email
Keep in touch with campers, staff, families, and alumni. Create distinctive email signatures by customizing and saving email templates.
With CampSite's user-friendly and intuitive Profile Pages, you can manage specific families, campers, employees, and alumni.
For each camp session, divide your campers and staff into groups. During registration, assign campers or just drag and drop as necessary. 
CampSite Pricing Overview (4.5/5)
CampSite offers two pricing plans, one is a free trial, and the other is subscription based. 
However, the actual subscription price is not disclosed by the vendors on popular platforms and has to be checked with the vendor itself. 
Here is what the users had to say about the Pricing: 
The value you receive for the price is outstanding. They always provide timely and friendly customer service.
We have definitely been able to streamline the registration process thanks to it. It works excellent for managing all the money so that we, a tiny camp, don't have to.
CampSite ease of use: (5/5)
With its various communication tools, Campsite provides the most user-friendly interface. This helps customers to get their money's worth out of all the features that the software has to offer.
Here is what users had to say about it:
"I think Campsite's strongest feature is its easy-to-use interface, not only as a Camp Director but from our parents' perspective as well. I've received great feedback from our parents, specifically with respect to the ease of enrollment, photo viewing, phone call scheduling, and the Campsite one-way email system. If my parents are happy, I'm happy – so to me that's an invaluable advantage."
CampSite Support 
How software performs with a user, vary and this is exactly why a company should always have customer support people to assist in order to make the user experience more seamless. For any software to work to its full potential, apt communication is very important between its developer and users. 
Here is what users had to say about Campsite's Support: (5/5)
"The customer support representatives are a pleasure to work with. They frequently have a lot of expertise and are really helpful. The website's back end is laborious, but once you learn how it functions, you may program it to perform whatever function you choose. Additionally, the support team will complete it if you cannot."
Campsite Integration
The process of combining several software subsystems into a single, cohesive system is known as software integration. There are several situations when software integration is necessary, including transferring data from an old database system to a new one that uses cloud storage. Given that CampSite already works on a cloud model, this should be particularly easy, however people have still complained about integrating their data into the system. 
Here is what users had to say:
"Difficult to integrate with our membership system. I wished they spoke to each other."
FAQ's
Who are the Typical Users of the CampSite?
The following are typical clients of CampSite:
Large companies, mid-sized businesses, nonprofit organizations, government agencies, and small businesses 
What Languages does CampSite Support?
Currently, the campaign only supports English. 
Does CampSite Offer An API?
No 
What Levels of Support does the Campaign Offer?
The following support channels are available on CampSite: Knowledge Base, FAQs/Forum, Email/Help Desk, Chat, and Phone Support.